Forfusion was represented at the summit by Chief Technology Officer (CTO) Ian Musgrave, and we chat to him below about Forfusion's working partnership with Citrix, the trip and the key themes that emerged during the event.
Hello Ian, you recently arrived back in the UK after the Citrix Summit, where did you stay and how long were you there?
The summit took place in Orlando, Florida this year, so slightly more pleasant than the January weather back in the UK!
I went out there on the 12th January and stayed for 4 days in Lake Buena Vista, which is located close to Disney World, arriving back last Thursday (16th).
Could you expand a little on the Summit itself?
It was busy! Over 5000 people, made up of Citrix members and partners from across the globe, were in attendance. It was great to network and gain insight from such a wide range of sectors and backgrounds.
The Summit itself covered a range of objectives, allowing Citrix a platform to review the previous year and its current marketplace standing, as well as giving the Senior Leadership team the opportunity to set out strategic objectives for the upcoming year.
For a company like Forfusion, the main objective is to gain a firmer understanding of exactly where Citrix want their partners to focus. There were many opportunities to learn about these objectives through breakout sessions; learning about the latest technologies, solutions and sales & marketing initiatives.
Alongside the Keynote speakers and breakout sessions, were there any other sessions that particularly stood out?
I found the breakouts interesting but in addition to those, the World of Solutions was great. Here, you got the chance to get hands on with the solutions and those of some of Citrix's main partners, like Microsoft and Cisco. A very valuable session indeed.
What seems to be the most prevalent topic that's emerged from the Summit?
To be honest, it's difficult to pinpoint one specific area, but I think there were three main takeaways for Forfusion and our clients base.
Firstly, there is a clear shift by Citrix to move away from focusing on how good the technology is. Instead, the focus is to help businesses ensure their Employee Experience is effective and sustainable. Not only to attract the best talent, but retain them long term and drive productivity and working practices that suit everybody in the business.
Secondly, the evolution of Cloud continues at a rapid pace and Citrix are at the forefront of this. Not only with their own Cloud SaaS applications and solutions, but their new focus on Microapps, which allow SaaS applications to be embedded into the Workspace application.
Last but certainly not least, the fact that Windows Virtual Desktop (WVD) is not the death knell of Citrix virtualisation. Microsoft presenters and engineers were on hand to demo how the two organisations are partnering and how Citrix are ideally placed to help customers make the most of any WVD deployments they may be considering.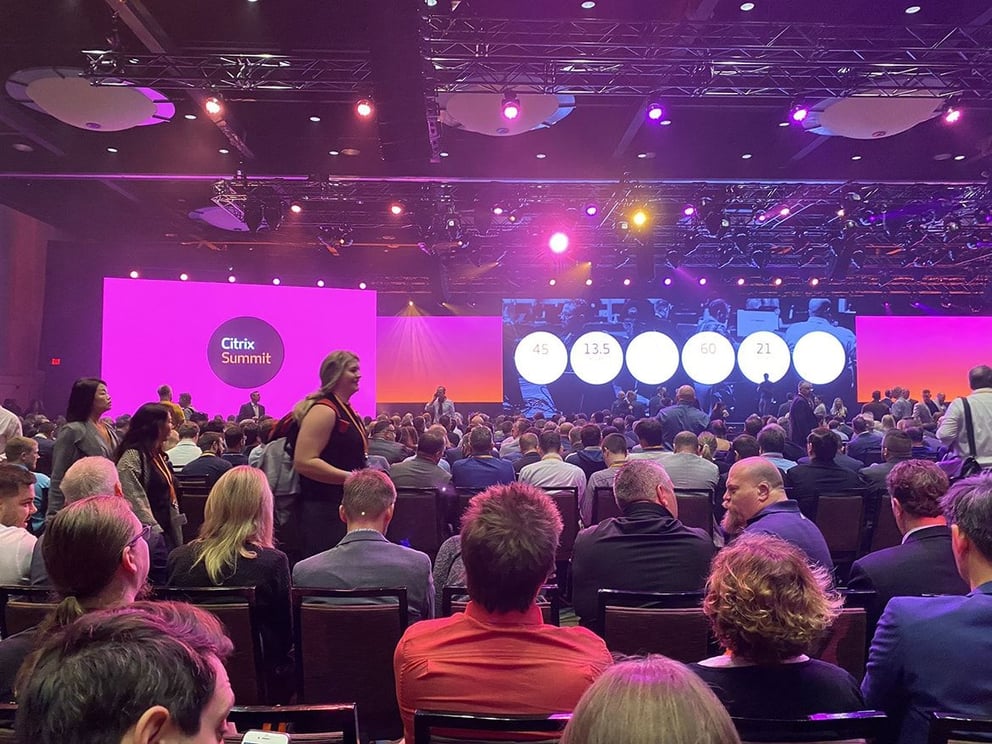 In what ways will these new developments benefit our client base, the end-user?
For our clients, the main benefit is engaging their workforce in the right way. Studies have shown that around a third of an organisation's workforce is disengaged with poor technology, systems and processes a primary factor.
The good news is that the intelligent workspaces and applications displayed at the Citrix Summit means that we can help our clients turn these figures around and increase workforce engagement and productivity.
With that in mind, could you delve a little deeper into the working partnership between Forfusion and Citrix?
It has benefits right across the board, not only by strengthening our portfolio of Cloud solutions, but they also complement our long-standing partnership with Microsoft, allowing us to add significantly more client value through Azure and Office365.
The partnership particularly works because it enhances our capability to deliver end-to-end solutions for our clients and our existing solution portfolio and skillsets. For example, our deep understanding of Data Centre has allowed us to deliver advanced, hybrid virtualised desktop solutions with on-premises elements powered by the latest HCI solutions.
Lastly, did you get a chance to relax and see many sites?
Well, the schedule was busy as I've said, but we certainly managed to enjoy ourselves during the downtime. Citrix pulled out all the stops.
There were Partner/Distributor networking events over dinner and the odd beer (or few!) during the evenings. Tuesday night was the Partner Appreciation Event, for which Citrix hired Universal Studios for our exclusive access. That was pretty cool. All in all, a very interesting, topical trip that will no doubt benefit Forfusion and our clients into 2020 and beyond.
Our partnerships with the likes of Citrix allows us to offer a far broader service offering to our clients. Discover more of these benefits at our Digital Workplace page.