As the global focus on climate change continues to gather momentum, IT professionals have a unique opportunity to lessen the negative environmental impact on our planet through the thoughtful application of technology.
Enabling sustainable outcomes through IT is an increasingly important issue for organisations across every industry, with the need to reduce carbon emissions and conserve resources becoming ever more pressing.
What is Sustainable IT?
Sustainable IT, also known as Green IT, refers to the development of new sustainable technologies and processes that reduce or eliminate the environmental impact of traditional IT systems. Sustainable technology includes renewable energy, energy-efficient servers and networking equipment, and low-carbon data centres. Green IT also looks at managing the product lifecycle.
Revolutionary newer technologies such as Artificial Intelligence (AI) and the Internet of Things (IoT) help create smart buildings, smart grids and enable hybrid work. These can help organisations reduce their carbon footprint, positively contributing to climate change.
How can IT help tackle climate change?
Organisations can develop innovative solutions to tackle climate change by leveraging digital technologies. This includes data-driven solutions that provide better insights into the environmental impacts of their operations, as well as predictive analytics that can be used to optimise the energy usage of their facilities. Additionally, cloud computing can help reduce the energy demands associated with running in-house IT infrastructure, while machine learning can automate many aspects of the sustainability process.
What is a circular economy?
The circular economy aims to keep products and materials in use for as long as possible to get the maximum value from them. So, instead of creating products to be consumed and discarded, we are transitioning to a world where products and materials are used repeatedly in a circular lifecycle.
According to the 2023 Circularity Gap Report, the global economy is now only 7.2% circular. A paper from the Ellen MacArthur Foundation further shows that transitioning to renewable energy can only address about 55% of the world's greenhouse gas (GHG) emissions. The remaining 45% are directly linked to the production of goods and the management of land, which is why better adoption of a circular economy can contribute to completing the picture of emissions reduction by transforming the way we make and use products.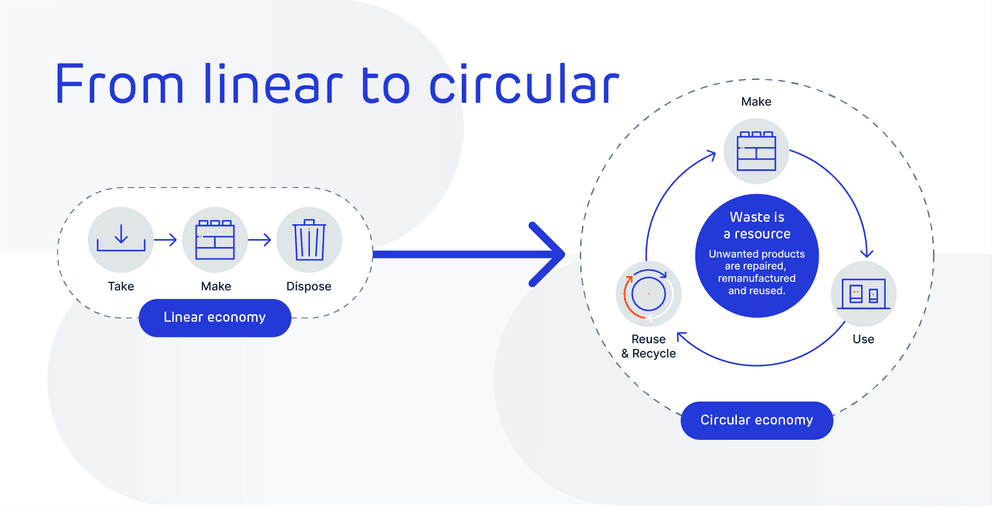 How to manage circular IT challenges?
Cisco is leading the way in providing circular and sustainable IT solutions. Introduced by Cisco, The Environmental Sustainability Specialisation (ESS) is an excellent example of their approach. This specialisation recognises Cisco partners for their commitment to helping customers create an optimal environment for deploying IT solutions that are both economically and environmentally sustainable.
Forfusion was granted this coveted accreditation last year, which shows we are committed to assisting organisations to be more sustainable. With our ESS accreditation, we can offer a range of solutions through Cisco that enable businesses to reduce their carbon footprint and meet their sustainability goals.
Sustainable IT solutions:
Cisco Refresh
A sustainability solution which allows businesses to buy Cisco-certified remanufactured products, which prevents end-of-use hardware from being disposed of as waste. Prioritising reusing over recycling directly impacts the circular economy and helps reduce customer's Co2 emissions: shrinking their carbon footprint by reducing their dependence on raw materials.
Cisco Green Pay
A circular IT payment solution which enables customers to enter the circular economy by moving beyond product ownership, which, as a consequence, minimises waste. Offering flexible payments allows customers to streamline total project costs into a fixed and predictable payment.
Cisco Take Back
Free removal and transportation of equipment from a customer site once it has reached end-of-life, ensuring that all returned materials are disposed of responsibly. This process is simple, secure and sustainable, providing a steady stream of reusable hardware for the Cisco Refresh scheme.
What is a Cisco Environmental Sustainability Specialised partner?
The Cisco Environmental Sustainability Specialisation is an example of how IT can help tackle climate change. By encouraging its partner ecosystem, Cisco works with its technology partners, such as Forfusion, to help organisations understand their environmental impact, develop sustainable strategies, and implement technology solutions that reduce their carbon footprint.
Partners who have achieved this specialisation must demonstrate knowledge, skills, and experience in developing and delivering best-in-class green IT solutions.
Ultimately, Cisco Environmental Sustainability partners can help customers migrate to the most up-to-date technologies and responsibly recycle end-of-life IT hardware, enabling them to achieve their sustainability targets. Through this process, organisations can also benefit from cost savings and improved efficiency by reducing energy consumption and avoiding waste.
Your journey to more sustainable IT starts here.
Whether it's looking at making the technology you have in place more energy efficient or which new technology would be the greenest choice, Forfusion can help you achieve your sustainability goals, whatever they may be.
Contact us today to transform your organisation.