I believe, if implemented correctly, a smarter working ethos is not just better for business, it's better for society as a whole. Over the last few years, I've been experimenting with smarter working, both at home and abroad (it's a tough job - but someone's got to do it!).
I'm hoping that this experiment will provoke discussion and debate around how technology - or lack of it - is changing the nature of how we work, even more so with recent and unplanned changes we've all had to make as a direct result of COVID-19. It has brought about an accelerated move to the cloud whether working remotely or not; in turn making securing your environment easier than ever before, and now offering seamless end-to-end management, control and visibility, all from the cloud.
In 2016 I spent a month in the South of France; I had a semi-permanent base and a full complement of tools, including two MacBooks, an iPad and iPhone. In late 2017 I spent another month abroad, but this time I took a slightly different approach. I opted to travel much lighter with only an iPad and iPhone, skipping from country to country through France, Italy, Czech Republic, Germany and then back through France on my return journey. Both holidays provided the perfect opportunity for me to experiment with smarter working.
Challenges of Smarter Working
I'm incredibly interested in developing smarter working methods, identifying cultural boundaries and exploiting the collaboration tools we have at our disposal, especially those that can be deployed quickly and managed in the cloud, offering ultimate flexibility, resiliency and security.
Prior to my first holiday, I considered my main aims and challenges for working smarter while I was away:
The Hours I Work - I want to be able to work the hours of my choosing and from a location that suits me. For example, I'm very much a morning person; therefore, tend to grapple with more complex work-related issues at 5am when there are no distractions, but I respect that others in the team work in different ways and at different times.
Office Communication - There will be the obvious managerial challenges and of course issues with scheduling; however, every effort will be made to attend video conference calls that have already been planned; our Sales and Marketing weekly catch-up calls being a perfect example of this.
Key Decision Making - Team management and engagement may present a challenge, especially if important decisions need to be made during times that I'm not available; something that will need to be managed very carefully.
Working Day - The plan is to work four to five hours on a typical 'split' day; however, there will be days that I make myself completely available, or unavailable, which will likely be influenced by visits from family and friends, weather conditions and work emergencies.
Life and Work Balance - I plan to make myself available at specific times and also to delineate periods for family and friends (and dogs Daisy and Marvin); how my family will react to this is another matter! Being disciplined and knowing when to switch off and when to make myself completely unavailable will be a considerable challenge.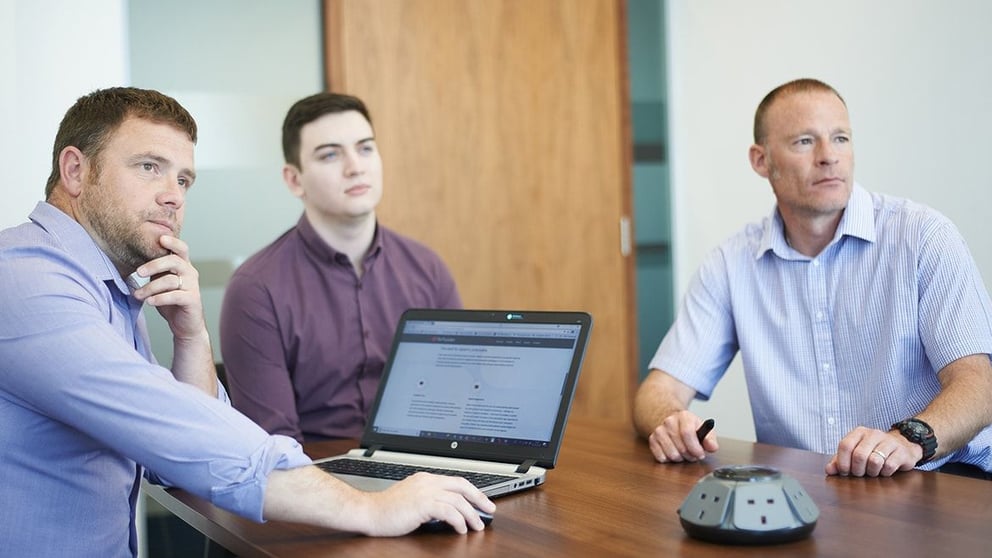 Embracing Technology - An Integrated Approach
I wondered if an integrated approach was the way forward; working smarter to choose when and where work-related activities are conducted. I'd read that this approach can foster trust, promote creative thinking and - more importantly - help employees integrate (not balance) their work and personal lives more effectively. Overall, improving their wellbeing. This flexibility usually makes them happier, healthier and more productive - something we've witnessed first-hand.
So what did this mean for me? The plan was to work as a 'split' day, trying to work between four and five hours;
06:00 (05:00 UK) - Quick swim, breakfast, and coffee
06:45 (05:45 UK) - Four hours work, available via audio, video and instant messaging (planned strategic works)
10:45 (09:45 UK) - Out with dogs for a walk or run (perhaps call into a café)
13:00 (12:00 UK) - Holiday time (unavailable)
18:00 (17:00 UK) - One hour work, available via audio, video and instant messaging (catch up activities and planning)
19:00 (18:00 UK) - Holiday time (unavailable)
I used cloud-based tools during the working holidays; primarily Cisco WebEx, and Microsoft Office 365/ Dynamics 365 (CRM, Excel, PowerPoint, SharePoint, and Word).
For microblogging and social media, I took advantage of the usual suspects including LinkedIn and Twitter; however, I also used some of the automation and social influence/intelligence tools used by our marketing team, such as Hootsuite and Lissted; all tools were 100% cloud-based.
I found whilst having secure, cloud-based collaboration tools at my fingertips made it easier to communicate, it also encouraged me to check my smartphone frequently. For example, I found myself following up on emails as soon as I received them, rather than addressing them at the end of the day as originally planned.
It got me thinking.
Technology makes this possible; however, it's only half the equation.
Implementing and refining a framework that suits flexible workers and encourages cultural change within the team is just as important. In fact, it's sometimes the most difficult challenge to overcome.
Is Smarter Working the Same for Everyone?
I wondered if my experience of smarter working was the norm. I decided to reach out to a number of contacts to get a better idea of what smarter working means to them.
Stuart Lynn is an independent business advisor, having held roles at Sage and the University of Sunderland. Stuart said:
"Building a service Chatbot is one great example of how I used technology to work smarter not harder. Mass call events such as payroll year end put a high demand on telephone-based support departments. These events present a challenge for most businesses as it's difficult and costly to scale knowledge and resources effectively in order to maintain high levels of service. Historically, customers would have to wait on the phone for an excessive amount of time to speak to a telephone-based agent for answers to often simple questions. This inevitably resulted in satisfaction levels dipping considerably and despite offering an online knowledge base customers tended not to use it. Introducing an experimental Chatbot and a small amount of machine learning to provide an innovative conversational interface for the most frequently asked questions considerably changed user behaviour. Customers were more likely to use the conversational interface and they started to self-serve. This delivered massive benefits to the business as the pressure was eased on telephone-based agents allowing them more time to deal with more complex issues. Queue times were reduced, and service levels increased. This also delivered benefits to the customer as they no longer have to wait in a queue to get answers to their questions, which in turn delivered enhanced customer satisfaction ratings.
Cultural barriers behind changing to working smarter is also an interesting area to consider. A lot of education is still required to change the opinions of companies and managers stuck in the past who feel that someone has to be sitting in front of a desk for 8 hours a day to be productive. This rubs off on the employee, who in turn feels they can only be productive and of value to their manager if they go into the office to show "a presence".
I believe it comes down to a fundamental trust issue. If the manager can't physically see their employee, they assume they aren't working. This perception needs to change. When I started working from home, I actually had a real problem with discipline in that I worked on and on, way into the night. Leaving the office, on the other hand, provided a natural break."
James Tennant, Founder of Converge, a leading business community and media platform said:
"I set up a business to try and make as much time for myself as possible, so I could spend more of it doing the things I enjoy, and less of it spent in an office.
I'm also a big fan of travelling, something that's difficult to do as much as I would like when you're running a business, working from a fixed location in the traditional 9-5 way. By implementing flexible working, I'm able to travel and work. There's no longer a choice that has to be made between doing one or the other, which is great.
And for anyone that thinks that if you or your staff are not at the office that no work gets done, I believe you can be just as hardworking and efficient working flexibly, as you are working in an office. If anything, I believe I work harder and more enthusiastically.
Fortunately, with software and apps like Zoom, Skype, and Slack to name but a few, as well as smartphones helping us to do more and more "on the go", it's getting easier to work from anywhere. Staying in touch with clients and staff is relatively simple now, no matter where you're based, as long as there's reasonably quick internet around.
The more I've embraced flexible working, the more I've enjoyed what I do. And I've noticed no detrimental effect on my business either."
Nick Johnson, Managing Director of Precept, The Brand People said:
"I wish I had £1 for every time I've said "we should all be working smarter, not harder" over the last 8 years. And while it's easier said than done, technology is making it easier. Much easier in fact.
Come to think about it, without knowing it I've adopted a boat-load of apps over the last few years that have hugely increased my productivity on a personal level. From my iPhone or MacBook I can access my Teux Deux app for managing daily tasks, Evernote for notes and ideas, Pinterest for research and Audible for my ebooks. Even the marginal gains in time-saving from disruptive services such as Xero and Receipt Bank have had a really positive impact.
I rarely switch off from work, it's my hobby just as much as it is my business. So being able to switch into work mode while out of the office and out-of-hours is really important. And spending a lot of time working remotely from our London office over the last few years has made smarter working even more important. As such, I've been working towards having as much information available at my fingertips, on my iPhone.
Using a London trip as an example: From my mobile, I can book my train tickets and hotel, check in and log any expenses. Request an Uber or pay for the tube, book a meeting room, attend a video call, access files on Dropbox, take meeting notes, communicate with the team via email or instant messenger and set actions. I can even access our accounts and business banking, view and edit spreadsheets and make payments. In fact, there aren't many of my day-to-day tasks that can't be tackled on my mobile. I can even access the studio's CCTV remotely, to spy on the team while I'm away! ;-)
We've made similar strides throughout the business in recent years by embracing new technology. Which is relatively easy for us to do, given the nature of our business. But surely smarter working is a hot topic in any boardroom? If not, it should be. And it shouldn't be a hard sell either, when any time and cost saved in streamlining workflows and processes goes straight to the bottom line. Maybe smarter thinking is one of those topics we're all aware of but seem to do little about. Google wrote a great article on this with regards to Digital Transformation recently. Which brings me back to the phrase "we should all be working smarter, not harder". Do the smart thing".
Smarter Working Barriers
Prior to this experiment, I identified some key challenges.
My thinking was related to 'escaping' from work, but in fact, I encountered very few problems related to keeping in touch and remaining productive.
Upon reflection, the main challenge I had to overcome was not related to productivity, or team morale, or even communications for that matter. It was knowing when to switch off and make myself 'completely' unavailable and out of contact.
I made a concerted effort to switch off during allotted downtime, with a view to making much more time for R&R on my working holiday.
Communicating over video wasn't always perfect; however, I think it's fair to say that issues weren't necessarily related to the applications I had been using. Moreover a result of terminating equipment in the UK, poor 3G coverage in France, or dips in internet performance (especially in mountainous areas when using satellite).
For the second holiday (sorry, experiment) I replaced my Mac with an iPad. I wondered whether the trade-off for freedom and portability would prove too restrictive, and/ or whether workarounds would become a limiting factor, and actually hinder productivity. I didn't have any issues with this at all but I accept this could be down to the individual.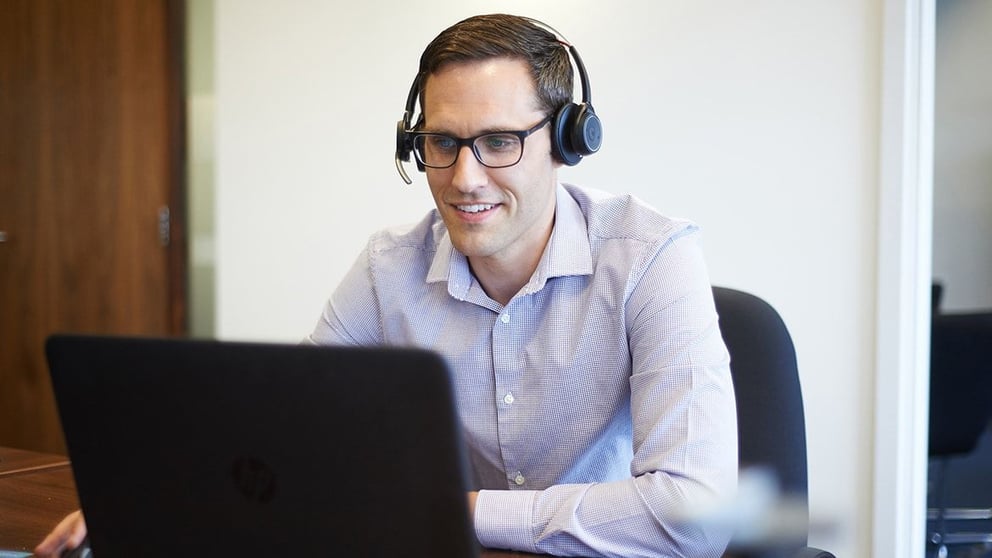 Benefits of Smarter Working
It's fair to say that I enjoyed many aspects of this experience.
A factor I didn't anticipate evaluating in any great detail is that of family life. During the trip, without being prompted, my other half, Helena, asked: "Will you be as relaxed and as easy to live with when at home and not in the south of France?" She had noticed a change in my behaviour (for the better). This has even caused me to question living in the UK full time; however, I guess that's only a question I'd be able to answer if I were to remove the holidaying element entirely and perform a similar experiment over a longer period of time, perhaps three months or so.
I revisited the list of key challenges I put together at regular points of the experiment.
I also considered the positives.
From my experience, here are my top 3 benefits of smarter working:
Picturesque Productivity - The first thing I noticed about being removed from the office environment was my ability to think more abstractly. The beautiful and quiet surroundings meant that I was able to focus on some of the more pressing strategic challenges, which have become increasingly important as Forfusion's growth has continued to accelerate. I had more time to spend on the business strategy and completed tasks that are made difficult when facing day to day distractions in the office.
Communication - Everyday communications were a lot easier than I had envisaged. I had been working very much as I do when in the UK office; relying on instant messaging (IM) for quick, ad hoc updates and using video/web conferencing for more involved meetings and/or when content sharing was necessary.
The on-the-go office - In order to make my life easier (and for testing purposes) I had been using an array of social media and productivity tools; both on-premises and cloud-based products, primarily from Cisco and Microsoft. Applications such as Webex, and Skype for Business (Microsoft Teams) as well as social apps such as LinkedIn and Twitter had proven invaluable; they allowed me to collaborate reliably and securely on multiple devices; including my Apple Mac, iPad and iPhone.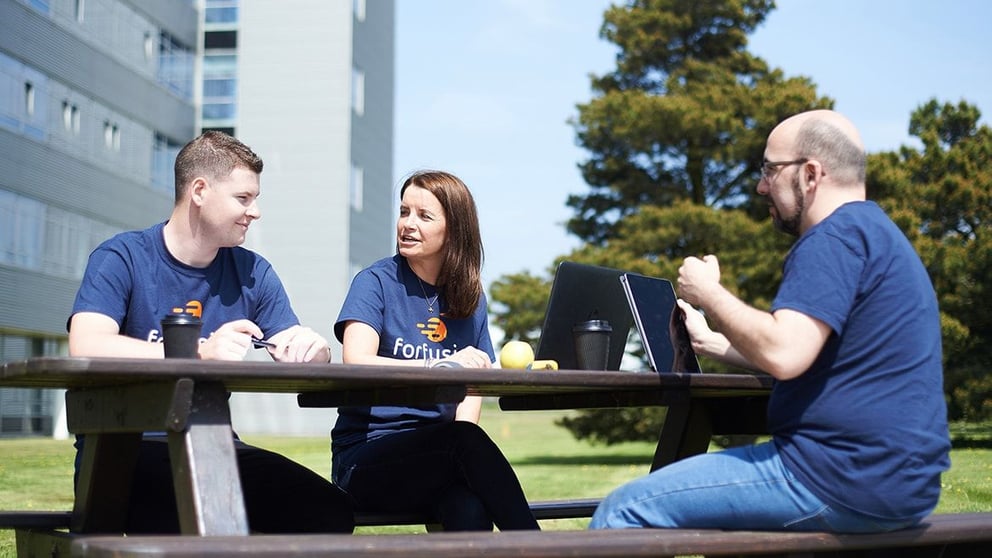 Is Smarter Working for You?
Overall, I have really enjoyed the whole flexible working experiment. For the most part, I enjoyed a reliable experience communicating across all media, both with team Forfusion and customers, which was extremely reassuring. I really appreciated the freedom and flexibility. Not only in terms of the hours and days I was able to work, but also the locations. I had been able to work from the poolside, the mountains, the coast; in fact, just about any place of my choosing.
I encourage you all to find out how Forfusion can help your organisation embrace flexible working while maintaining a collaborative working culture. This can be achieved in part by determining your company's security policies and department or function specific use cases, and then by selecting and integrating market leading security tools to help you meet your objectives.